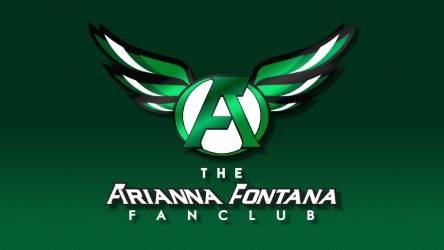 04/11/16 - A new dawn
Arianna's new sports season has begun and her Fan Club is delighted to announce a couple of important novelties.

The first concerns social networks: From now on the only facebook page where undertakings such as events, meetings, out-of-town races as well as Arianna's results will be published is: www.facebook.com/ariannafontanafanclub
The Fan Club has also been active on other channels such as Instagram (www.instagram.com/aryfontanafc) and Twitter (twitter.com/aryfontanafc) for some time now.

As you all know well, Arianna took some time off last season, to concentrate on herself, but now she's back, fitter than ever and introducing a couple of great innovations!
From now on she will be racing in her favourite colour: green.
This colour also dominates her new logo, whose principal elements are the initials AF and the wing design.
This logo represents Arianna's being and the Fan Club has decided to adopt it in place of the previous one for this very reason.

At the dawn of a new season Arianna and her Fan Club are more united than ever.