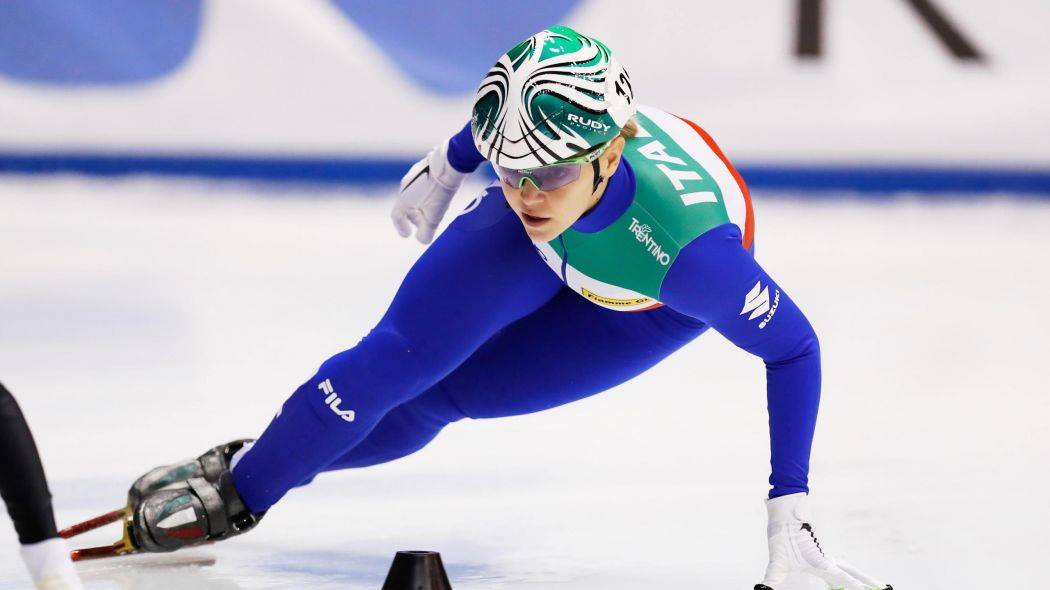 01/12/19 - ARY IS BACK
On 1 November 2019 our personal counter indicated 593.

So many days have passed since 18 March 2018, the date of Arianna's last official race up to that point. On the occasion of the world championship in Montreal, Arianna did not take part in any individual race, but - helped her companions win a fourth as a member of the relay race team.
We have to go back to the Olympics in February 2018 to remember an individual result for Arianna– recollection of an atmosphere which will remain in the historical memory of Italian sport forever.
Her fans – and Arianna herself - would love to relive these emotions, but there are times in the life and career of an athlete, when ambition and energy take a while to get back on the same level.

1 November 2019 is the day of Arianna's return to the national team.

It coincides with the World Cup at Salt Lake City, the first international occasion of the 2019/20 season. While the helmet is new (in her colour, green, with the initials AF engraved at the rear), you can tell from the very first rounds that punch and determination are the same as ever.
She gets into the finals in both distances she runs - 500 and 1500 – right away, but a collision in the 500 semifinals bars her from the possibility to fight for a medal, on very fast ice mind you, with Canadian Kim Boutin establishing a new world record with 41.936.

One week later, in Montreal, second leg of the World Cup.
Arianna concentrates on the 1500 meters where she'll compete, amongst others, with Corean Kim Ji Yoo, a young emerging talent of the circuit, almost ten years younger than herself. And this distance, which has given Arianna two of her eight Olympic medals, will be the new starting point of her career: great action when there are six more laps to run, ending with a second place, right behind Kim. It has been almost two years since her last win in a World Cup (Shanghai, December 2017), but we are so used to her on the podium that it doesn't really feel that long ago.

The third stage of Nagoya is the last commitment in 2019 for Arianna and her teammates of the Short Track national team. Her last time here was an incredible success with three golds in the 500 and the 1500 meters and the relay. With special encouragements by Papà Renato, Mamma Maria Luisa and Uncle Michele, Arianna repeats the "Nipponic triplet", this time winning a medal in each metal. On the podium of the 1500 and 500 meter races we have a droll reshuffling of positions between Arianna (first bronze, then silver), Boutin and Kim. In the relay, helped by a disqualification of Corea, the most precious metal is back on the necks of the "Azzurre", almost four years after the double win Dresden-Erzurum in February 2016.

Arianna and the national team will not start in Shanghai a week later.
How will we get through a weekend without Italy on track, when we just fell in love again with this sport, thanks to the return of its most victorious athlete ever?

We just have to wait for Friday, 24 January, and the European Championship at Debrecen.

When you've been waiting for almost 600 days, 50 days pass by very quickly after all!